Steps towards Empowering Pedestrians (STEP)
While vehicles continue to increase exponentially and dominate our streets, little is being done to safeguard a pedestrian's right to walk safely in the city. Despite several policy documents, like the National Urban Transportation Policy, National Mission on Sustainable Habitat, National Smart Cities Mission, as well as various Street Design Guidelines which talk about pedestrian safety, design guidelines & standards, and pedestrian facilities, the ground reality is different. Pedestrians are not respected by motorists and very less importance is given to the issues related to pedestrians by government officials, motorists and pedestrians itself.
National Urban Transportation Policy talks about pedestrian rights but on the ground they are dominated by the traffic, congestion relief and parking issues, etc. In such a scenario, it becomes crucial for the pedestrian to actively seek walkability in their cities. This is a platform where people can join the movement to make cities pedestrian friendly.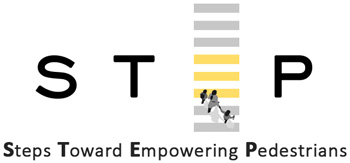 STEP (Steps Toward Empowering Pedestrians) brings pedestrians together to fight for their rights in the form of a sustained, organized campaign. We ask for our city to be walkable, both in terms of infrastructure as well as a culture of respecting pedestrians. The campaign, launched in February 2020, through a National Pedestrian Conference in Pune, will be undertaking different activities involving users as well as other stakeholders to bring about safe walking facilities in Pune.