Walking on the roads of our cities has become challenging these days due to various reasons like wider roads, heavy traffic, rash driving, speed of the vehicles, etc. At many places there are no footpaths and where they are provided, they are with full of obstructions.
Walking is a very fundamental activity in which almost everyone is involved. And therefore, everyone is a pedestrian at one time or the other. Pedestrian trips account for most of the trips in many Indian cities.
Yet many roads, particularly inner streets have no footpaths. Footpaths are designed, it seems, as an afterthought to vehicles most of the time. This attitude towards footpaths can be seen in almost all the cities in India.
If you ask any person about the purpose of the footpath, anyone will tell you that it is for walking and not for parking or driving your vehicles. Also, the number of obstructions that can be observed everyday while walking on footpaths are not expected. Were footpaths meant for all these purposes? Obviously, "No". What is expected is just a simple, flat, even, continuous and obstruction free surface to walk safely and conveniently on the streets. But do you see the footpaths in our cities achieving the real purpose of it. If it would have been achieving its purpose, then there would not be so many pedestrians' deaths in India (Road Accidents Data – 2018, MoRTH).
IRC guidelines for footpaths:
IRC works in close collaboration with Ministry of Road Transport and Highways (MoRTH). It is an apex body of road sector engineers and professionals in the country which works on the issues related to road construction, maintenance, and development.
According to the Indian Road Congress (IRC) 2012 guidelines – footpaths in residential areas need to be wide enough for two wheelchairs to pass each other. Thus, all roads which have pedestrian traffic are supposed to have a footpath with a minimum width of 1.8 m. Similarly, in commercial zones, they have to be even wider i.e. 2.5 m. In addition to this, the height of the kerb above the carriageway should not exceed 150 mm. These guidelines are developed so that road can be used effectively by all road users and not just by the vehicles.
The IRC guidelines also highlighted the need of footpaths having increased width in busy areas such as bus stops and railway stations depending on pedestrian movement. However, it can be observed easily that at many bus stops a footpath often does not even exist, or is completely occupied (blocked) by the bus stop itself, which leads pedestrians to walk on the motor carriageway. The standards laid out by the Indian Road congress are followed only for major roads. Mostly inner streets are yet to have footpaths in many cities.
Attitude of Municipal Corporations:
Most of the time it is observed that concerned city level authorities have failed in keeping footpaths clean and fit for pedestrians to walk. Except for a few footpaths in the city, others are in ramshackle condition. Ideally footpaths should be clear of all obstructions including utility ducts, poles, electricity, waters, trees, telephone boxes and signages. And if they are put on footpaths, they should be put in such a way that there must be enough walkable space for pedestrians. But if one would take a walk around their neighborhood footpath, you can experience the number of obstructions mentioned above.
In our cities, we often see that lot of space of the existing footpaths are being used for car and bike parking. Footpaths are given the least attention to our cities. Rarely are our cities planned for the people. Roads are meant for cars and two wheelers and not for pedestrians and cyclists. Footpaths should be designed as part of the road, but it is often seen that on many streets, footpaths are not built. The edges are left open which gather dusts and such sides of the roads are not suitable for walking. Therefore, being forced to walk on such roads is risky and scary.
A Reserve Bank of India study on Municipal Finance found that cities spend just about one fifth of their budgets on road maintenance. If adequately spent on roads (which include footpaths), this would be enough. According to the study by RBI, Pune is among the top performing Municipal Corporations in India.
Though Pune is one of the top performing municipal corporations in the country, irregular and poor maintenance is the real issue when we look at the condition of the footpaths in the city. There are few roads which have excellent footpaths and proper regular maintenance. But except such few roads, many roads do not even have walking infrastructure especially in the old city and where provided, they are poorly maintained and encroached upon by every convincible obstruction.
We are now working towards smart city mission which has an aim of making our cities smart. The remarks of the Bombay High Court in this regard are pertinent, which said (in its own motion vs State of Maharashtra judgement) that "No city can become a smart city unless it has roads and footpaths in a reasonably good condition".
According to a study by IIHS, nearly 80% of people travel on foot in India. Yet a clear conventional wisdom around pedestrian's rights and best practices for the design of pedestrian systems (footpaths, street crossings, etc.) has not fully emerged in our cities.
Time to be Vocal:
It is time to be vocal about all these issues. The political apathy and municipal neglect of the pedestrian environment can only be overcome by sustained advocacy by people themselves. STEP (Steps Towards Empowering Pedestrians) currently works on such issues in Pune where we bring pedestrians together to fight for their rights in the form of a sustained and organized campaign. One can get connected with STEP on www.stepwalk.in.
As Bombay High Court said in its judgement that "Having good roads and footpaths is a fundamental right". Therefore, it is the right time to raise our demands for better, safer, and convenient walking infrastructure in our cities.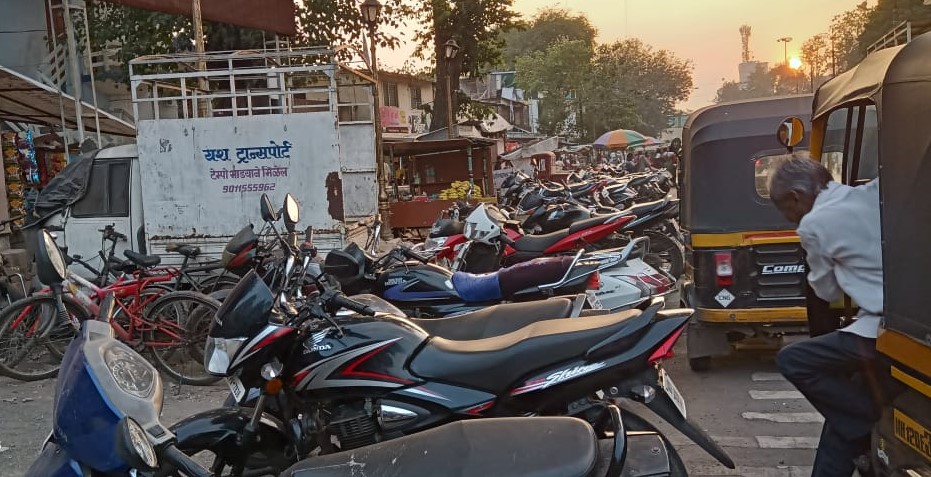 - Suraj Jaipurkar, Parisar